A Beginners Guide to QR Codes
By now we are all familiar with UPC barcodes. The black lines on a white background with 12 unique numbers are used to track trade items in stores.
What you might not be as familiar with are QR (or Quick Response) Codes. Just like UPCs, QR Codes store information. However, there are a few differences between them.
UPC Code:


One-dimensional
Limited amount of data storage
Data is mechanically scanned by narrow beam of light
---
QR Code:


Two-dimensional
Faster readability and larger storage capacity
Data is detected as a digital image by image sensor and analyzed by programmed processor
---
The Back Story
The QR Code was invented in Japan by Toyota in 1994.  Its originally use was to track vehicles during manufacturing.  The two dimensional code was easy to scan, but was able to contain a lot more data than its predecessor. This served to be useful in the manufacturing process.
QR codes are still used frequently by manufacturers, but the recent explosion in their popularity has been driven by a marketing need.  QR codes have been found to be useful at bridging the gap between print and digital media.  Marketers have realized that customers are much more likely to scan a code than they are to type in a long email address.  This has enabled marketers to deliver digital messages and solicit online interactions from consumers through non-digital marketing channels.
QR Codes on nearly every printable surface – magazines, billboards, buses, business cards, tee-shirts and more.  The Royal Dutch Mint even put a QR Code on their currency!
In June of 2011, 14 million mobile users scanned a QR Code.  Fourteen million people in just one month!  While 58% of those scans took place at home, 39% happened in retail stores.
QR Codes are great because they can store a lot of data, yet retrieval is fast and easy.  The amount of data stored depends on the type, version, and error correction level (or how distorted/damage the image can be, yet still be readable).  For example, here are two different QR Codes with different amounts of data. Here are two examples of QR codes and the data they contain.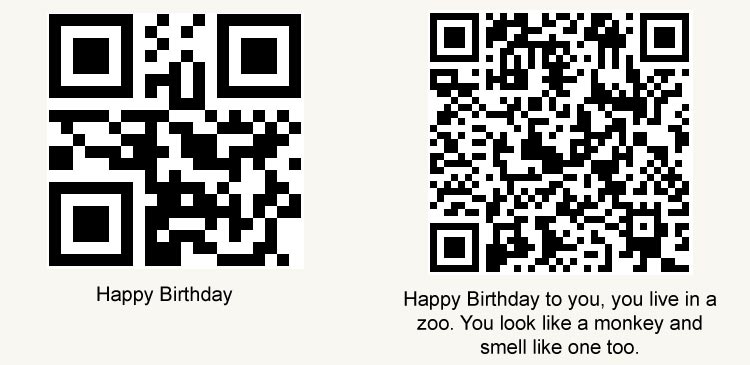 What Can a QR Code Do?
Here is a list of the most common ways businesses are using QR Codes:
Direct customers to their website
Bookmark the company's website
Call the business
Send a text message to the business
Send an email to the business
Create an address book entry with the company's contact information
Schedule one of the company's upcoming events in the customer's calendar
Display a map and/or driving directions for the business's location
Display the latest coupon
Download the company's app
"Like" the business's facebook page
How Best to Use a QR Code
There are plenty of articles online that list myriads of creative uses for QR codes.  I am instead going to focus on the two that we commonly use for our customers.
Adding Contact Info to a Smartphone
More and more of our customers are asking about QR Codes for their business cards.  Our standard advice is that it's a great idea.  But rather than having the QR Code point to their website or Facebook Page (their usual request) we encourage customers to encode their contact information in the code.  Most smartphones capable of scanning the code can recognize when a QR code contains contact information.  In most versions of Android or Iphone operating systems, scanning the code allows for the automatic adding of someone's information to the users contacts. This works great for networking events or for sales people looking to make an impact.
Creating a Fan-Gate
This can be more complicated but is really effective for clients with a retail location.  This is essentially how it works:  A sign with a QR code promises a discount or other offer to anyone who likes the businesses Facebook Fan-Page.  When a customer scans the code they are taken to a page with a simple like button.  If they press the button and like the businesses page, they are shown a coupon of some type.  This simple system has been effective for several of our clients and is a great way to build a social media fanbase.
Some additional ideas we've seen or done ourselves include:
Name Tags – The next time you attend a conference or meeting, put your company's QR Code on your name tag.  This way, your contact information won't get lost among the myriad of business cards other participants are passing out.
T-Shirts – Is your company sponsoring a little league team or charity race?  Will your company be giving away t-shirts at a local parade?  Put your QR Code – along with your logo – on the back of the t-shirt.   Use your QR Code to drive traffic to the graphic image that encourages visitors to "like" you on facebook.
Menus – These days, it seems everyone is counting calories.  Put a QR Code next to each item on your restaurant's menu.  Customers can scan the code and receive nutritional information
ForSaleSigns – Every realtor needs to jump on the QR Code bandwagon.  Placing a code on a for sale sign is a great way to share property details, a photo gallery, price, terms, and more.
Closed Sign – Instead of using an unprofessional plastic sign with handwritten hours of operation, simply stick a QR Code on your closed sign.  In addition to accessing your hours, potential customers can link to your website too.
Next Service Appointment Stickers – Each time a customer gets an oil change from your service station, affix a next service appointment reminder to their windshield.  Use a QR Code to send customers directly to an online scheduling program.  While you're at it, include a coupon!
How Do I Get One?
The answer we always like to give is: Contact Us!  We're more than happy to help you implement a QR code strategy within your marketing. If your a little more independent minded or just want to play, this is the tool we use. The tool is fairly self explanatory and you can test the codes it generates straight from your monitor.
Please let us know if you have any questions.
---
Subtle Network offers effective Graphic Design in Clearwater as well as across the country.  Our Clearwater Web Design offers effective online solutions for many in the local area as well as throughout the country.